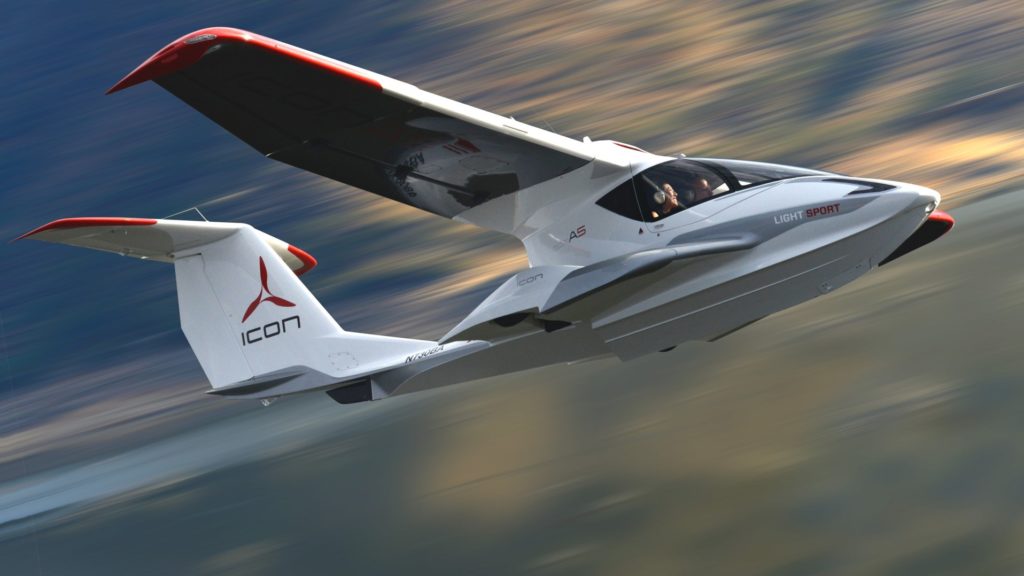 ICON Aircraft's A5 amphibious Light Sport Aircraft has been nominated for the National Aeronautic Association's (NAA) most prestigious award, the Collier Trophy. The A5 is one of nine nominees for the 2015 Collier Trophy and is the only piston-powered aircraft to be nominated. For 104 years, the Collier Trophy has been awarded annually "for the greatest achievement in aeronautics or astronautics in America, with respect to improving the performance, efficiency, and safety of air or space vehicles, the value of which has been thoroughly demonstrated by actual use during the preceding year." Previous winners of the Collier Trophy include the Boeing 777 and 787, Gulfstream G550 and G650, International Space Station, SpaceShipOne, and the F-22.
"The Robert J. Collier Trophy represents America's long history of aviation innovation, and the ICON team is honored to be under consideration for this year's award," said ICON Aircraft Founder and CEO Kirk Hawkins. "As the first conventional production aircraft to achieve the FAA's Part 23 standard for spin resistance, the A5 represents a historic safety milestone, while the 1800-plus aircraft order backlog demonstrates that this NASA-pioneered technology is finally reaching the consumer market at a meaningful level."
ICON's nomination document focuses on the A5's safety innovations, including the Spin-Resistant Airframe, angle of attack gauge, intuitive and simplified cockpit, complete airplane parachute, and mandatory flight training. There is particular emphasis on spin resistance because the technology has proven elusive during the 25 years since the introduction of the FAA spin-resistance standard, and it serves to directly address stall/spin accidents, which are the single greatest cause of pilot-related fatalities in General Aviation.
In addition to ICON, this year's nominees include Airbus' A350 XWB, NASA's New Horizons and Dawn Projects, and HondaJet's HA-420. The nine nominees have been invited to present to the NAA's Selection Committee on the afternoon of 8 March. The Committee will announce the winner of the 2015 Collier Trophy that evening at a dinner that follows the presentations.