ICON Aircraft
Company Mission
ICON Careers
Do you want to change the world?
Leadership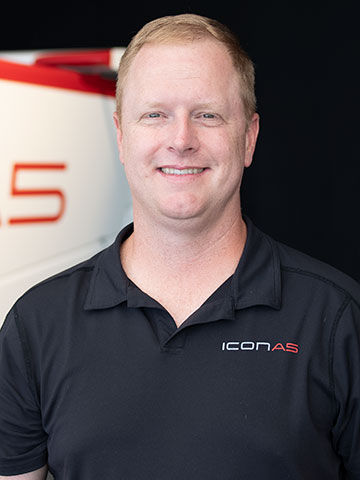 Jerry joined ICON in March of 2016. He previously served as the Director of Sales for the Western U.S. and Head of Marketing before taking on the role of CEO in January of 2022.
Jerry graduated from Duke University with a BS in Civil Engineering and was commissioned as an officer in the U.S. Navy through NROTC. After earning his wings as a Naval Aviator, Jerry first flew the E-2C Hawkeye and then the T-45 Goshawk for more than 9 years on active duty and 3 years in the U.S. Naval Reserves, accumulating more than 2,200 flight hours, 23 combat missions, and 200+ arrested landings on aircraft carriers around the world. After leaving active duty in 2007, Jerry earned his MBA in Marketing and Strategy from the Kellogg School of Management at Northwestern University and worked in Brand Management for P&G on the Tide brand. He subsequently held roles as VP of Marketing and General Manager for Legal Resources, a leading regional voluntary benefits business, prior to joining ICON in 2016.
Jerry is a commercially rated land and seaplane pilot and CFI/CFII. He can often be found flying media demos and prospective customers in Long Beach Harbor, just off the coast of Southern California, where he lives with his wife and four children.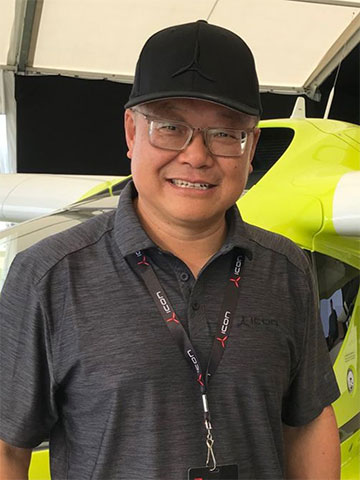 Jason serves as ICON's President and has more than 30 years of engineering and management experience in the manufacturing and software industries. He has deep experience in the R&D process, hands-on experience in product development from inception to delivery, and a proven track record of creating high performing teams. Prior to joining ICON, Jason worked at EMC and OpenText as Head of Cloud Platform Engineering & Operations. He holds a PhD in Mechanical Engineering from Queen Mary University of London and an MS and BS in Mechanical Engineering from Shanghai Jiao Tong University.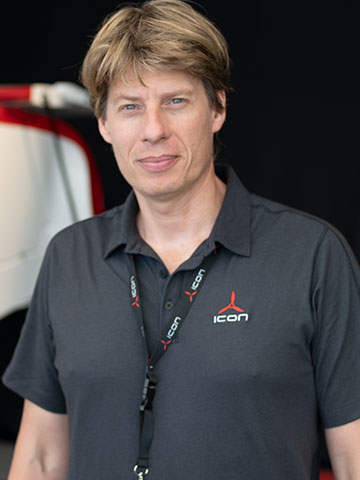 Stéphan joined ICON in July 2021 as Senior VP Operations and brings more than 25 years of aerospace, powersports and automotive expertise to his role. As COO, Stéphan oversees all manufacturing operations, final assembly, quality control and certification compliance. He also ensures a best-in-class experience at ICON's Service facilities.
Before joining ICON, Stéphan held several positions, including Commercial Director and interim CEO at European light sport aircraft companies BlackWing in Sweden and most recently Porto Aviation Group in Italy.
Stéphan has in-depth experience in composite manufacturing and aircraft certification programs. With years of experience across both operations and engineering, Stéphan has managed aircraft configuration processes, vendor selection, and supply chain negotiations and also has experience managing avionics integrations as well as aircraft customization programs.
Prior to his aerospace experience, Stéphan held positions in the powersports industry, with almost 10 years at BRP in various roles including aftersales, product management, regulatory, marketing, and country management. A hands-on leader, Stéphan managed the only powerboat racing team ever to win the legendary 24h of Rouen for BRP in 2006 and was highly involved in the development of the advanced powerplant.
He holds a BS in Mechanical Engineering, speaks 5 languages, is a licensed pilot with more than 1,000 flight hours, and has piloted seaplanes on the famous Lake Como in Italy.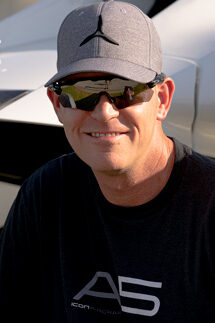 Sr. Director, Global Sales & Service
Noah Collins
Noah has been with ICON Aircraft since joining as a Regional Sales Director in January of 2018. Noah graduated from the United States Naval Academy with a BS in Ocean Engineering and began his career in aviation as a carrier pilot in the C-2A Greyhound. He accumulated over 2500 flight hours and over 200 carrier arrestments during multiple deployments in the Middle East and Asia.

Before joining ICON, Noah worked in several different capacities in the energy sector, developing multi-measure projects to help large institutions achieve their sustainability goals. Noah is a commercially rated land and seaplane pilot and a CFI/CFII. He currently resides in San Diego, CA, just a few miles from the Montgomery-Gibbs Airport.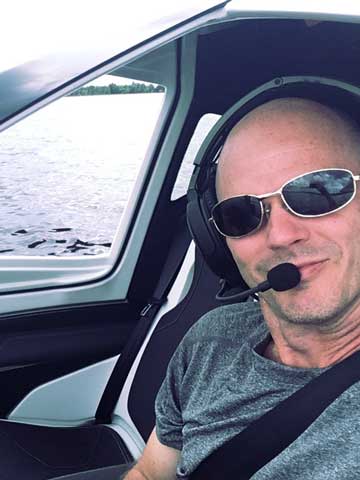 Chief Pilot/Flight Ops Manager
Sean Stamps
Sean Stamps serves as ICON Aircraft's Chief Pilot. With over 3000 hours TT, over 800 of which are in the ICON A5, Sean is a CFI-I, SES, and Rotorcraft-Helicopter rated pilot who brings a diverse aviation background to ICON. He has flown a number of different military aircraft, including the MV-22, CH-46, T-34, and TH-57. In addition to his time as a pilot-in-command, he also managed the training and currency qualifications for squadron pilots and aircrew, serving as a Safety and Standardization officer.
Sean holds his BS in Aviation Engineering from Ohio State University, with a specialty in Human Factors.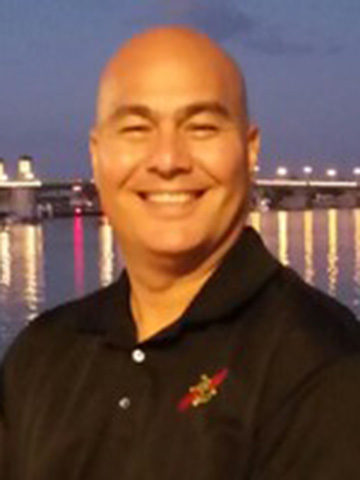 Sr. Manager, Owner Experience
Robby Bonnano

Robby is a Veteran from the United States Navy, with over 30 years of experience leading large multi-functional teams. He completed eight combat deployments while in the service during Operation Enduring Freedom, culminating his career with the Navy Flight Demonstration Team (Blue Angels) as the Master Maintenance Chief.
In his time at Icon Aircraft, he has served as the Manager, Aircraft Maintenance, Sr. Manager Customer Service and Support, and currently Sr. Manager Owner Experience.
He holds his degree from Embry Riddle Aeronautical University in Professional Aeronautics and is currently based at ICON's West Coast facility in Vacaville, CA.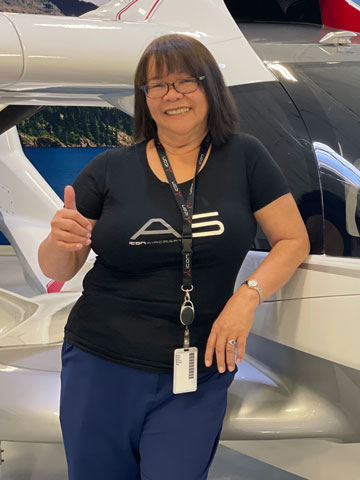 Head of Human Resources
Maria Odena
Maria has over 35 years' experience in Human Resources, is SPHR certified, and holds a BS degree in Organizational Behavior from University of San Francisco. Prior to ICON, she has worked for the healthcare and life science manufacturing industry.

In her spare time, she enjoys entertaining hosting BBQ parties for her 3 children, 4 grandkids, and extended families. She also loves music in all forms—thanks to her oldest granddaughter, she is now a full-fledged BTS army.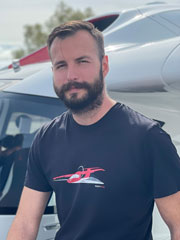 Director,
Engineering
Rodolfo Correa

Rodolfo joined ICON in 2013 and was part of the team responsible for designing, building, and certifying the first production A5. He currently serves as ICON's Director of Engineering and has more than 11 years of engineering and management experience in the aerospace industry.

Rodolfo has expertise in designing and integrating aircraft electrical and avionics systems and has hands-on experience in program management. Prior to joining ICON, Rodolfo worked at Zodiac Aerospace in Huntington Beach, California as Lead Electrical Engineer for the Embraer 170/190 program. He holds a BS in Electrical Engineering from University of California, Los Angeles.
ICON Production
With a composites facility located in Tijuana, Mexico and a final assembly facility located in Vacaville, CA, ICON production is up and running. For an inside look at ICON Manufacturing, watch our Composite and Final Assembly videos.
A Product of Passion
Commitment to Quality
Icon Aircraft will provide unparalleled customer purchasing and support experience through a commitment to quality, innovation, on-time delivery, dedication, with service and support second to none. Continuous improvement and product development will be achieved through employee investment and recognition. ICON will continue to build a workforce with the knowledge and skills to deliver the ultimate experience in Light-Sport Aircraft ownership, focused on getting it right the first time, every time.
Fly on our Wing
ICON is building partners across the country. Join our mission to spread the excitement of adventure flying.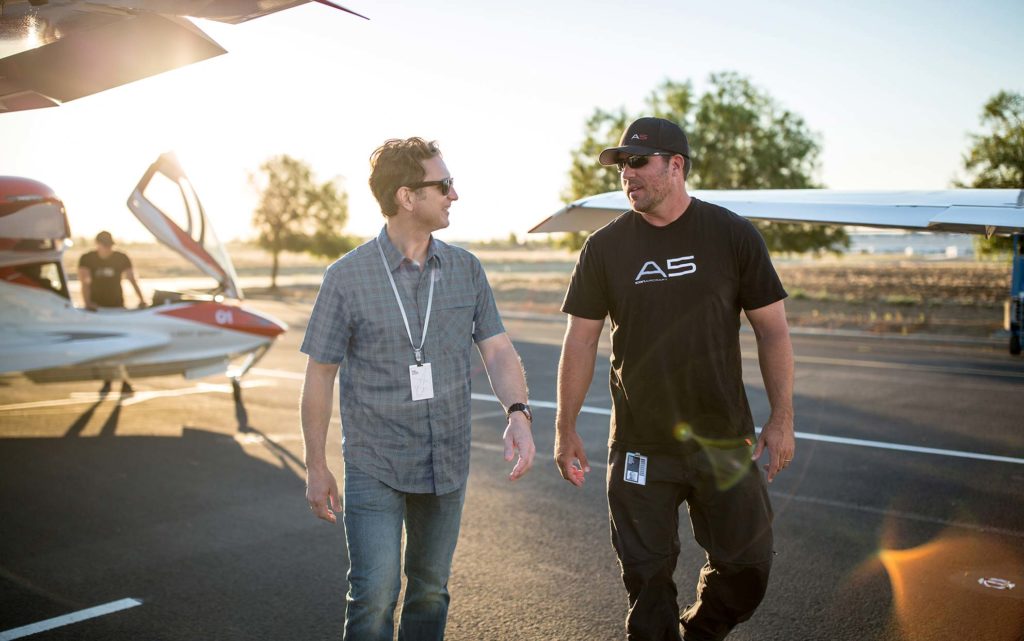 Partner with ICON
Join our growing network of world-class Aircraft Service and Flight Training partners.
Stay Updated with ICON News