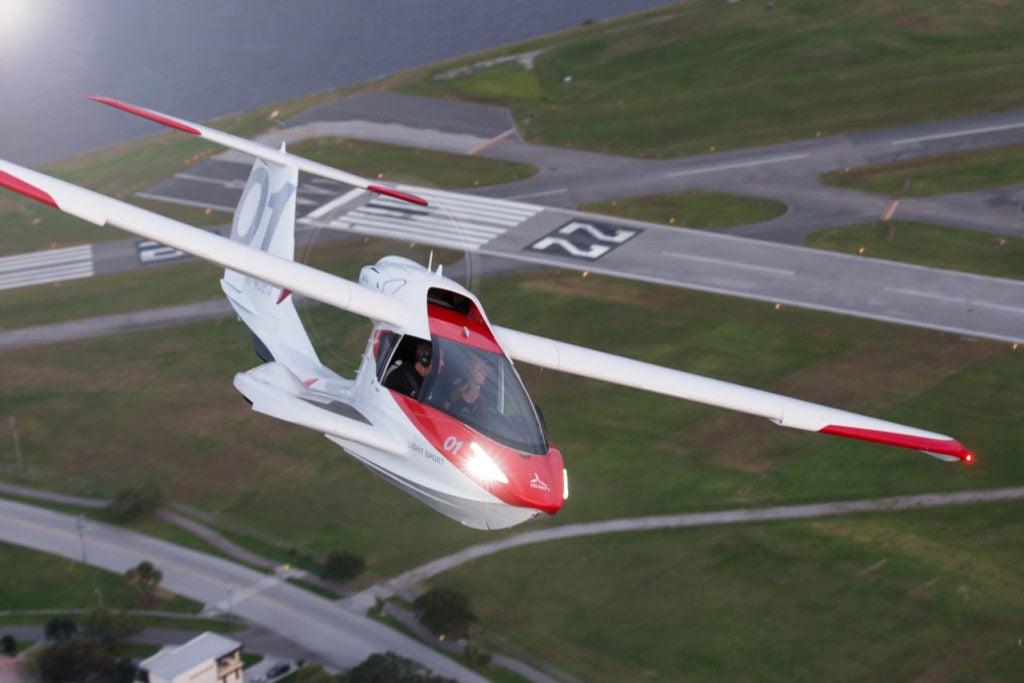 ICON Aircraft, maker of the revolutionary ICON A5 Light Sport Aircraft, announced the official opening of its ICON Flight Center (IFC) at Tampa's Peter O. Knight Airport. IFC Tampa joins ICON's existing IFC in Northern California and will serve as a convenient East Coast hub where A5 deposit holders and the general public can complete flight training and rent aircraft.
ICON's training program was built from the ground up to redefine the way people learn to fly. Both IFC locations offer specialized courses for various levels of experience, from seasoned seaplane pilots to those who are completely new to aviation. Programs range from a 90-minute introductory flight to a 15-day full Sport Pilot License with water endorsement. ICON's proprietary curriculum and courseware were designed by top military fighter pilots, as well as accomplished instructor, commercial, and seaplane pilots.
"We developed the ICON training program from the ground up to be as innovative and thoughtfully designed as the aircraft itself," said ICON Aircraft Founder and CEO Kirk Hawkins. "We studied a range of high-performance schools, like car and motorcycle racing courses, before developing the ICON training program, and we optimized our approach based on how people learn, so they can most effectively absorb critical information and learn the fundamentals of flying. In addition to emphasizing basic airmanship, we also focus on developing good judgment and decision-making, self-reliance, and encouraging ICON pilots to be responsible members of the flying community. These are all critically important to ensure that everyone who flies an A5 has the tools to safely maximize the extraordinary capabilities and versatility of the A5."
We developed the ICON training program from the ground up to be as innovative and thoughtfully designed as the aircraft itself.
"The new IFC in Tampa is an important part of our vision to democratize aviation," Hawkins added. "People from all over the world can now experience the A5 and the ICON training program, regardless of whether or not they are deposit holders. And, for the first time, training program graduates can rent an A5 and take it out and do the type of sport flying that most people never get to experience. Peter O. Knight Airport is the ideal base for this because of Florida's year-round flying weather and outstanding water flying, combined with the airport's easily accessible urban location."
Several locations along the Eastern Seaboard and throughout the Southeast were considered before ICON chose Peter O. Knight Airport in Tampa. "We're excited that ICON chose Peter O. Knight Airport to serve the needs of its customers and aviation enthusiasts," said Hillsborough County Aviation Authority CEO Joe Lopano. "Just minutes from downtown, the airport is right on the water and offers a perfect location. Florida has a rich aviation history, particularly with regard to water flying, and we are happy ICON has chosen Peter O. Knight to further that history."
ICON opened its first flight center, IFC NorCal, in California this summer as part of its 300,000-square-foot corporate headquarters. To date, approximately 40 people have completed their training while experiencing firsthand the simplicity, excitement, and freedom of flying the ICON A5. ICON plans to open its third IFC facility in Texas in the first quarter of 2017.
To register for training or learn more about either IFC, please visit iconaircraft.com/learn-to-fly or call 707 564 4100.