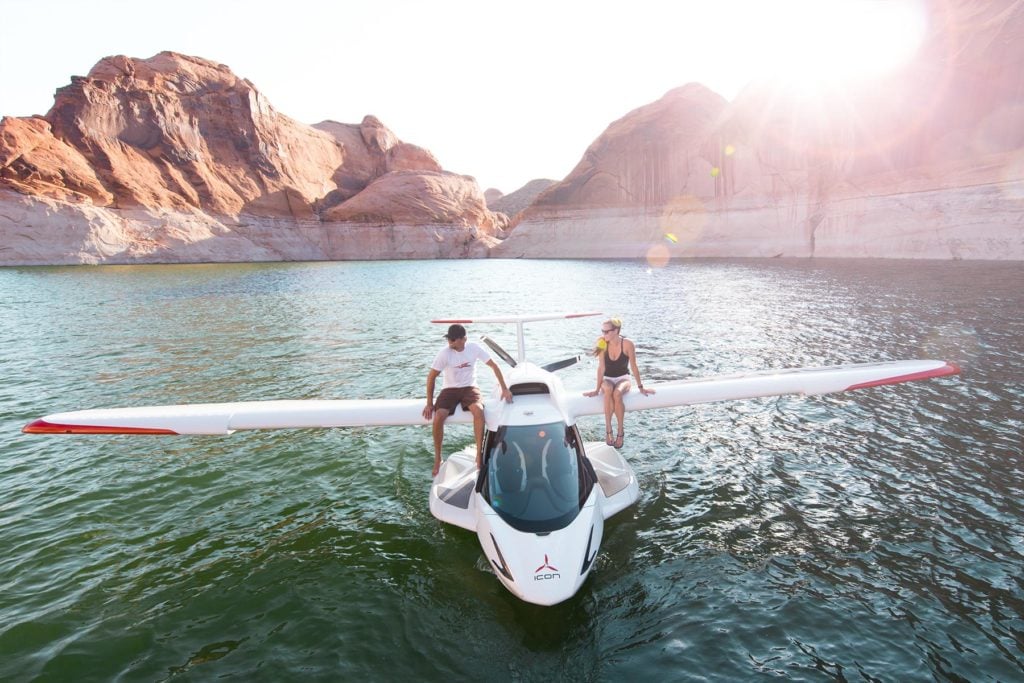 "Flying the A5 on Lake Powell was by far my coolest flying experience ever." – Julian Gates, ICON Customer
ICON Aircraft recently resumed customer deliveries. ICON delivered six of its A5 light sport amphibious aircraft to customers in June and July. These are the first customer deliveries the company has made since announcing a production delay last spring. The owners are located in Washington, California, Montana, and Texas, and have been using their aircraft regularly, flying to destinations that include the San Juan Islands, Flathead Lake, and Lake Powell.
"We've had a challenging year for sure, but the A5 is now ready. In fact, it's more than ready," said ICON CEO and Founder Kirk Hawkins. "We're now ramping up production and delivering aircraft. Seeing our customers having a blast exploring the planet on their own personal A5 adventures is precisely why we created ICON. It's a defining moment for us. It's cool to finally watch, especially after all the blood, sweat, and literal tears that have gone into creating this very special flying machine. We have a lot more work ahead still, but this is a proud moment for the team and our customers."
ICON owner Mike Sievert is among the early customers and has been using his airplane in Seattle. "The A5 is the perfect addition to my life in the Pacific Northwest," said Sievert. "Getting to the San Juan Islands for a quick getaway has transformed from a chore into one of the highlights of the trip. The plane is so easy to use and ICON has gone above and beyond with the flight training, maintenance preparation, and the plane itself."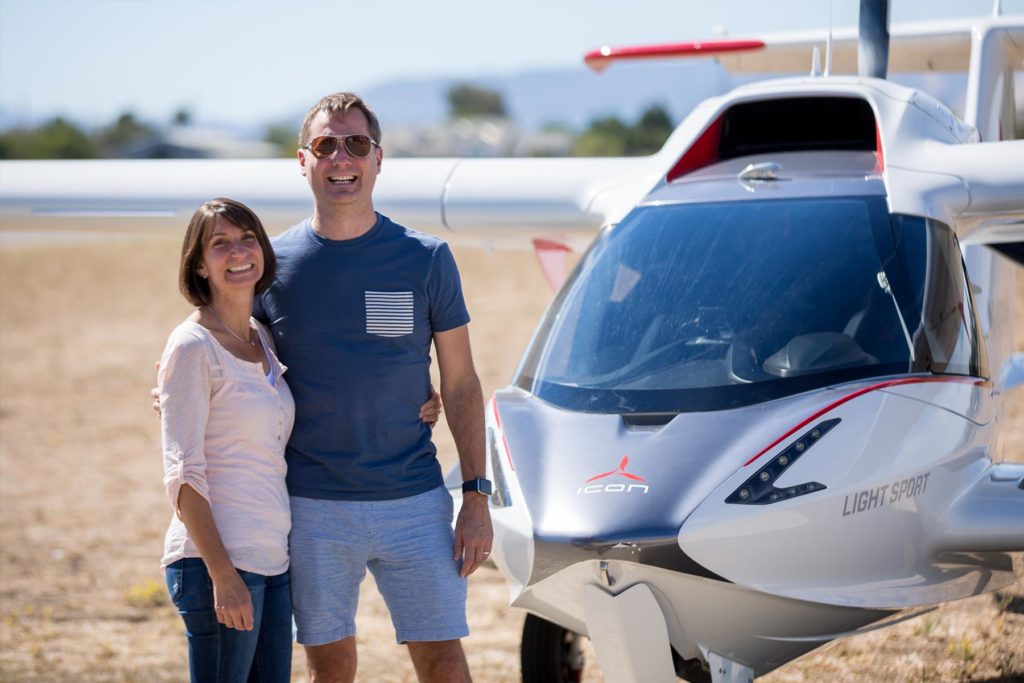 Julian Gates, an owner in Southern California, flew his plane to Lake Powell for the 4th of July weekend. "Flying the A5 on Lake Powell was by far my coolest flying experience ever. Unbelievable. I admit I was a little concerned at first given the 3,600-foot lake elevation and temperatures over 100F every day. But while you can certainly feel the effect of the 8,000-foot density altitude, we flew the aircraft daily at gross weight off the water. As for fun? Off the charts. I've owned a lot of planes in my life but never had this much fun. Tell the ICON team they nailed it and should be proud."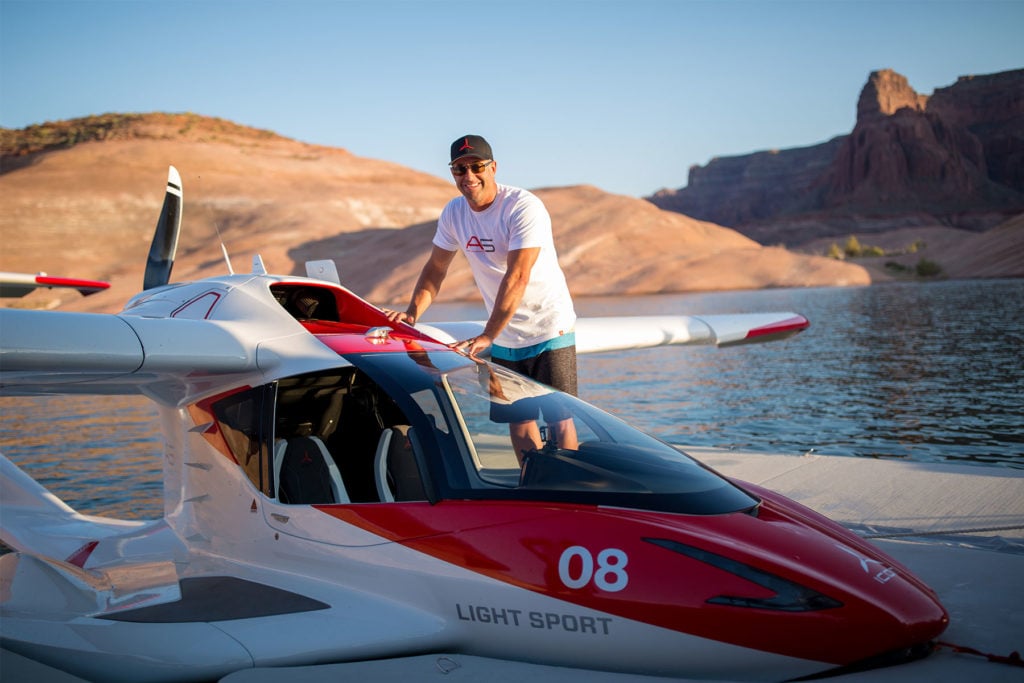 Bill Harris, a Silicon Valley entrepreneur based in the San Francisco Bay Area, has taken delivery of his first A5 and has two more on order. "I'm delighted with my ICON A5. I chose to take delivery of my first A5 in California and am excited to fly it to Napa, Tahoe, Half Moon Bay, Monterey, and Santa Barbara. My second A5 will be garaged in Manhattan and boat launched into the East River to fly to Montauk Lake in the Hamptons and to parts unknown. Not only is the A5 a blast to fly, it inspires me to explore in a way that no other airplane does."
Over the last 18 months, ICON made major investments in the business. Two ICON Flight Centers (IFC NorCal and Tampa) are up and running with over 125 students having been trained in the A5. An improved Model Year 2018 (MY18) A5 is now in production and incorporates numerous design refinements to improve usability and serviceability. ICON has completed its own state-of-the-art composites manufacturing facility to build carbon fiber airframes at high rate. The greenfield facility is operational and has started supplying airframes. The first MY18 A5s with ICON-made airframes will be ready for delivery in September. A5 production will ramp up gradually for the remainder of 2017 and then accelerate rapidly throughout 2018. The company will announce more details about the MY18 aircraft in the coming months
ICON Customer Service and Support (CS&S) continues to build the parts distribution network, maintenance training program, and train the first ICON-authorized service partners. The first two of these partners, Ace Aviation in Washington and Neptune Aviation Services in Montana, are now certified to service A5 aircraft. ICON is looking for additional top-quality Flight Instructors and Maintenance providers to join the ICON network.
ICON is celebrating 2017 customer deliveries with a promotion during EAA AirVenture Oshkosh that reduces the deposit for an A5 delivery position from $5,000 to $1,000 until 30 July. The promotion is available for deposits placed online or in person at the show and will return to $5,000 after the show. ICON has also announced a few open production slots are also available in 2018 for those interested in moving into an earlier delivery. More information is available here: www.iconaircraft.com/a5/own/buy.