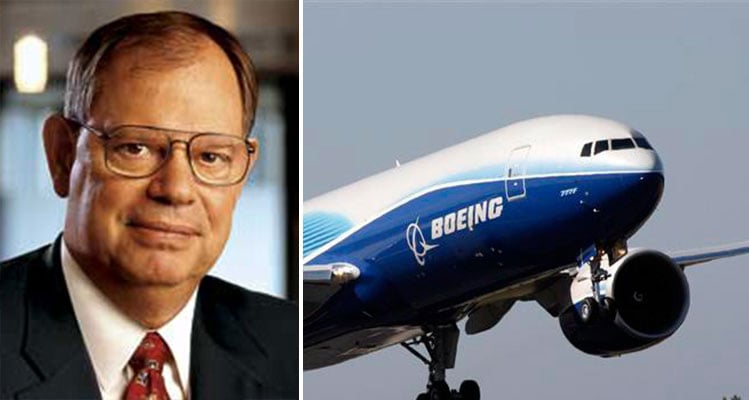 Phil Condit, Former Chairman & CEO of Boeing has joined ICON Aircraft's Board of Directors. Phil has been an ICON Advisor since 2010 and an ICON investor since 2011. Phil joins other industry legends on ICON's board such as Linden Blue, Vice Chairman of General Atomics, which makes the Predator drone.
"It's an absolute honor to have Phil join ICON's Board of Directors," said ICON Chairman/CEO and Founder Kirk Hawkins. "Phil's a proven aviation rockstar. Few humans on the planet know what Phil knows about aircraft design, and even fewer know as much as he does about running an aircraft company. Aircraft and aircraft manufacturing is simply in Phil's DNA–which is exactly why I asked him to join our board. Phil's experience will be invaluable as ICON scales operations."
Condit joined Boeing as an aerodynamics engineer on the Supersonic Transport (SST) project in 1965 and rose through the organization in various engineering and leadership roles on the 747, 727, and 737 projects. He was Chief Project Engineer and then director of engineering for the 757 and ultimately led the entire 777 program as Boeing's Commercial Airplanes Executive VP. The 777 redefined airliners and set numerous world records and, today, remains the industry standard for large aircraft. He became CEO of Boeing in 1996 and Chairman of the Board in 1997. Under Condit's leadership, several mergers and acquisitions transformed the company into a global powerhouse with unmatched capabilities.
"I'm convinced ICON is onto something great and has a chance to revolutionize aviation," said Condit. "I've been involved closely with the company over the years and have been blown away by ICON's ingenuity and unique ability to combine outstanding aircraft engineering with exceptional industrial design. I've never seen anything like it in aviation. ICON has the formula to truly open up personal flight at a whole new level. I also know how incredibly hard it is to create and produce great aircraft. As a passionate aviator as well as someone who knows firsthand the joy of flying, I'm honored to join ICON's mission to help bring personal flight to those who dream about it."