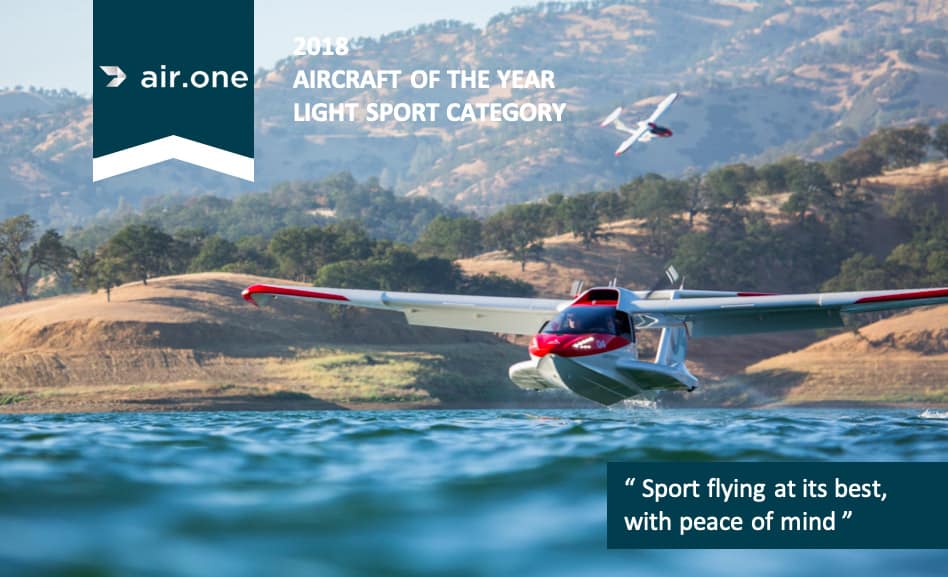 Recognition focuses on innovation in safety, design, and overall ownership experience
VACAVILLE, Calif. – February 22, 2019 – The amphibious ICON A5, manufactured by California-based ICON Aircraft, has been named the 2018 Light Sport Aircraft of the Year by air.one, a leading online aircraft sales platform. This recognition was based on the A5's innovative safety features, leading-edge design characteristics, and enjoyable in-flight experience.
The air.one team rigorously assessed all aircraft models and types to determine the 2018 category winners. Ultimately, judges praised ICON for its commitment to safety and design, specifically noting the A5's Angle of Attack (AoA) indicator, ICON Parachute System (IPS), and Spin-Resistant Airframe (SRA). They also lauded the plane's versatility with its amphibious capabilities, foldable wings, and ability to be easily loaded onto a trailer and transported off airport.
"ICON Aircraft is leading the LSA Category and potentially the whole market in every one of the criteria assessed," said Andrew Leece, CEO and Founder of air.one. "The A5's beautiful design, along with its unreal ownership experience, sets it apart from the competition. It's sport flying at its best, with peace of mind."
The inaugural air.one Aircraft of the Year Awards named winners across six categories, including Large Jet, Light Jet, Turboprop, Helicopter, Piston Aircraft, and Light Sport Aircraft. ICON Aircraft joins the likes of Bombardier, Pilatus, and Bell in being recognized as the best of the best.
"We're honored to have the A5 recognized as the Light Sport Aircraft of the Year," said David Crook, EVP of Revenue at ICON Aircraft. "It's a testament to where we are as a company and what it's taken to get here over the past 10+ years. The ICON A5 is an unreal flying experience, Adventure Flying at its best, and it changes everything people think they know about aviation – pilot or not."
For more information about the air.one Aircraft of the Year Awards, go to https://air.one/air-one-2018-aircraft-of-the-year/.
To learn more about the ICON A5, go to iconaircraft.com or call 707.564.4100.