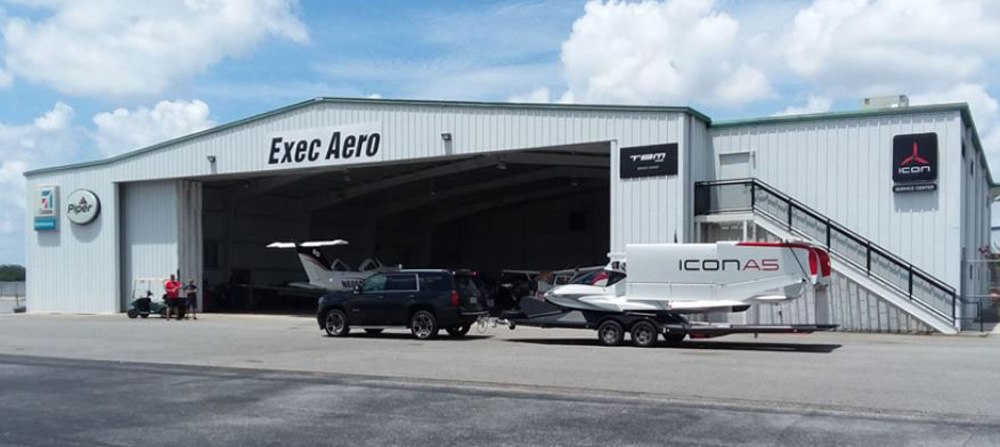 As the A5 ownership community continues to grow and owners are flying their A5's all across the U.S., creating a high caliber service partner network is one of the top priorities for ICON's Owner Experience (OX) team
ICON Service Partners (ISPs) complete a comprehensive training program on the A5, enabling them to provide service, scheduled and unscheduled maintenance, inspections, warranty work, and, in some cases, composite repairs.
Exec Aero, LLC is one of the most tenured ICON Service Partners, having joined the ICON Service Network back in 2018. They are located in central Florida, which is a popular area for A5 owners and seaplane flying. Exec Aero has been a great partner for ICON and below is a brief Q&A with Exec Aero's President and General Manager Nathan Marler on what it's been like to partner with ICON and service the amphibious Light Sport ICON A5.
Do you remember when you were first introduced to the A5? Having now become (very) familiar with it, what has surprised you about its capabilities or as an aircraft as a whole?
I was first introduced to ICON somewhere around 2013 by a coworker that introduced it as his "dream aircraft." At that time, I was not familiar with the light sport aircraft market personally. Professionally, our company serviced several light-sport aircraft that were flown by a local flight school. To be honest, I was not impressed with these other aircraft.
When I was approached by ICON and invited to become a Service Partner, I was admittedly not very enthusiastic at first. However, after visiting the factory in Vacaville, CA, and taking a demo flight I was amazed by the flying characteristics of the aircraft. The tour of the assembly line was definitely eye-opening as well. I have a bit of aviation R&D and manufacturing in my background so I was very impressed by the build quality and production process at the factory. The A5 truly is in a class all by itself.
There are several ICON Service Partners in Florida. What are you particularly proud of that allows you to stand out in the ICON Service Network?
We decided to put a lot of effort into not only servicing the A5 but also introducing the aircraft to our local aviation community. Exec Aero has developed a relationship with ICON's corporate partners that has allowed us to build our understanding of the service and maintenance requirements for the aircraft but also be able to keep an A5 on-site for prospective customers to experience. Exec Aero has also played a key role in explaining the A5's capabilities to FBO's, emergency responders, and governing officials in the area, helping to avoid miscommunication and misunderstanding.
Can you briefly describe what becoming an ISP entailed? Was the training any more or less unique than what you have completed with other OEMs?
Exec Aero was one of the earliest ICON service partners and so I'm sure many things have changed since we first came on board.
The first steps in any relationship with an OEM are getting to know your partner and developing network pathways. The ICON team has always been very helpful in providing technical assistance for their company processes. Our biggest challenge has been understanding the dynamics between the A5 Owner and the ICON Customer Advocate. While ICON is not the only OEM that follows this model, they do invest more resources into their customer service team, which helps to make the process work more smoothly. The aircraft-specific maintenance training was very well led and I feel the training process is ever-evolving just as it is with our other OEM partners. ICON staff is always happy to provide remedial or refresher training to our team which has been very helpful.
A second challenge was understanding the maintenance documentation system specific to ICON. The Maintenance Manager at your ICON Service Center in Tampa (Daniel Crawford) was an immense help as we navigated and learned the ICON system.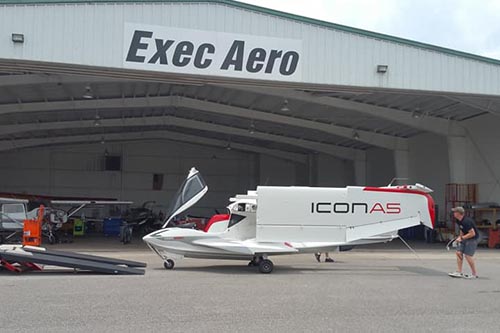 From an owner's perspective, are there any challenges to servicing the A5? Are there particular advantages?
The A5 is a fairly easy aircraft to maintain. The advantage of the A5 for an owner is definitely the 'modernization' of the aircraft as we know it.
No one builds planes like ICON. From the nose to the tail, nearly everything about the A5 is unique and superior to other LSAs from an engineering perspective. A few manufacturers might have a canopy, but being able to pop out the windows on the A5 is a gamechanger and always wows anyone who is seeing the plane for their first time. The spin resistance is an incredible safety feature that helps prevent such a common issue in aviation, and something you guys could probably promote even more. And the carbon fiber fuselage is unlike anything in its class – I have a couple of planes here that have carbon fiber aspects here and there, but nothing like the A5.
Utilizing the Rotax engine is another advantage. Rotax is one of the most used and most reliable small aircraft engines on the planet and its engine management system makes it very easy to operate for an owner.
One thing that is extremely positive about ICON is their willingness to listen and make changes that help us both. Most other OEM's take your suggestions "under advisement" but ICON has been great about working with us to make changes where it makes sense.
In my opinion, the biggest challenge in being an ICON Service Partner is that the aircraft is so versatile that it can be stored in locations away from the airport, like at a marina or on a trailer at the owner's home. As more and more A5 owners take delivery, the need for off-airport service and maintenance will increase. We have already seen this in our area and providing this support definitely becomes more complex.
What plans do you have for extending your A5 offerings in the future?
Exec Aero is working to expand our presence for ICON and to anticipate fleet growth in our area. We want to support owners in our region and also possibly partner with ICON to support the other ISP's where it makes sense. This process will take time, but because of our experience, we feel that we can be a resource to the ICON Service Network on the east coast. In addition, Exec Aero is working to develop an off-site AOG program to assist owners that are not able to bring their aircraft into our facility for service.
---
To learn more about the ICON Service Partner Network, click here. If you are interested in A5 Ownership and would like to experience the plane firsthand, you can request a sales demo flight through the button below.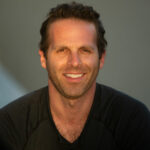 Paul is the Director of Marketing for ICON Aircraft. Before ICON, Paul was the Director of Video and Branded Content for Ranker, INC. and The Wrap. He was the host of Hulu's first original production, The Morning After, and co-developed Twitch.TV's first talk show, Game Talk Live. He is a private pilot based out of Pasadena, CA.