ICON's Austin-based Demo Team enjoyed watching the World Golf Championships – Dell Technologies Match Play from the wings of an A5 floating on the Colorado River last week. The event, which was hosted at Austin Country Club, features several holes which run along the river and so many spectators anchor offshore and watch the matches from their boats. Our team took it to another level by bringing the amphibious ICON A5 and the ICON Inflatable Dock to enjoy the views on the famous 14th hole.
The Colorado River and nearby Lake Austin are no strangers to the ICON A5, as these are among the best places to fly the A5 in the Austin area. A typical demo flight in Austin begins at Austin Executive and includes an aerial tour of the downtown Austin skyline before touching down on the waters of Lake Austin and Lake Travis.
If you're interested in owning an A5 and learning more about the many adventures available in Central Texas with our award-winning amphibious aircraft, please request a demo flight here or by clicking the button at the top right corner of our site.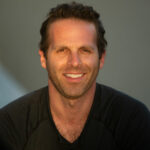 Paul is the Director of Marketing for ICON Aircraft. Before ICON, Paul was the Director of Video and Branded Content for Ranker, INC. and The Wrap. He was the host of Hulu's first original production, The Morning After, and co-developed Twitch.TV's first talk show, Game Talk Live. He is a private pilot based out of Pasadena, CA.