As we turn the page towards 2022, ICON's sales and demo flight teams have already been quite active across the US.
If you haven't received an event update in your area, please expect one shortly as we are covering the entire eastern seaboard offering people the opportunity to experience the ICON A5.
We wanted to take a quick moment to introduce you to your local sales representative coordinating many of these events.
For those of you in the region interested in learning more about the aircraft, ​​​​​​below is a quick introduction to acquaint you with Regional Sales Director Jen Claymore.
How long have you been a pilot and where did you conduct most of your flight training?
The majority of my flight training was conducted in Montreal, Canada, where I grew up. I flew most of my cross country flight time around the mountainous areas in the Laurentians. Having flown over the Canadian side of Niagara falls during one of my solo flights I can say was one of the most impressive sights to see. I completed my Commercial License with multi-engine and instrument endorsements in 2012. Afterwards, I moved to the US and converted my license over to the FAA.
Given the seasonal nature of the A5, your sales region covers South Florida, NY, NJ, and New England, describe what it's like to fly the A5 in these different areas?
I am extremely grateful that I have the opportunity to experience the best of both worlds. Florida is an absolute playground for the ICON A5 with short flight times to destinations such as the Bahamas or the Keys. The intercostals on the east coast by Miami is another hot spot for the A5. I've enjoyed flights around Marco Island and Naples as well as Siesta Key.
One of my favorite things to do with a client is pull up to a sandbar in the middle of the water and beach the aircraft. There's nothing like being in the middle of the water with an airplane, in total peace and tranquility with the ability to hop to another destination only accessible by boat within minutes, that would take someone hours to travel to otherwise.
As far as the New England/New York Area is concerned, Lake Winnipesaukee in New Hampshire has stunning views, as do the Finger Lakes up in NY, Lake Champlain, the list goes on and on
It's a short hop to go from NY (White Plains) over to the Hamptons when you can fly straight across Long Island Sound. Cape Cod, Martha's Vineyard, and the Boston areas are breathtaking.
Seeing as you're from Canada but now live full-time in Tampa, what does hockey season look like for you?
As far as hockey goes, you can take the girl out of Canada, but you can't take the Canadian out of the girl. After playing College Hockey, that fire is still lit. I will forever be a Montreal Canadians fan, but I do root full time for the Tampa Bay Lightning. This last playoff season was extremely rare considering both my home teams were playing in the finals for the Stanley Cup against each other.
What's the best meal you had last year and where was it?
There are a few runners up for the best meal I've had while traveling the US with ICON, but the winner I would have to say was the Black Cod with miso, as well as Yellowtail Sashimi with jalapeno served with fresh cilantro served at Nobu, in New York City.
How many A5 deliveries have you handled at this point in your ICON career? What feedback do you get from owners as to why they decide to own an A5?
Since becoming a Regional Sales Director last year, I have sold 13 aircraft, and each client is unique. ​​​​​They range from a 35,000+ hour military veteran pilot to an 80-year-old student pilot who started from scratch this past September, with many incredible stories and backgrounds in between.
The one thing they all have in common is their love for the A5 and adventure. They love how versatile yet docile this aircraft is. Some clients have their A5 living aboard their yacht, while some of them keep their plane at home in their backyard. The beauty is, it can be used anywhere.
I love hearing about my client's adventures and appreciate it when they share some of the footage they've recorded along the way. It makes me happy to see them happy.
Contact Jen regarding an A5 Sales question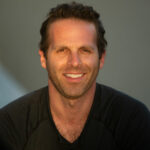 Paul is the Director of Marketing for ICON Aircraft. Before ICON, Paul was the Director of Video and Branded Content for Ranker, INC. and The Wrap. He was the host of Hulu's first original production, The Morning After, and co-developed Twitch.TV's first talk show, Game Talk Live. He is a private pilot based out of Pasadena, CA.