Certified boat captains, Victoria Chalaya and husband Rico Stoll share their nautical experiences on their YachtTube channel "NautiStyles." As yacht owners themselves, they spend a considerable amount of time in many different vessels, which they share with their subscribers, the Nauti Crew. ICON had the opportunity to introduce them to our amphibious aircraft on and above the salt water in South Florida.
For those who live aboard like Victoria and Rico, either part or full-time, we hope you enjoy this video from the perspective of these experienced yacht captains.
If you're in the South Florida area or along the coasts of Florida and would like to be introduced to the ICON A5, please contact our sales team via the request form here, and a member of out Tampa-based crew will respond to you shortly.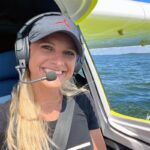 Suzanne is the Marketing Manager, Content + Brand Partnerships for ICON Aircraft. Suzanne holds her commercial single-engine land and seaplane ratings and is currently working on her CFI. In addition to her flying experience, she is a technically trained scuba diver and enjoys exploring and protecting shipwrecks, coral reefs, and marine life.