In 2019, VSATSLab and the Virginia Department of Aviation purchased their very own ICON A5 to educate youth (and adults) about aviation across the Commonwealth of Virginia. Today, through frequent school visits, career days, and airport community events throughout Virginia, students are able to experience the next generation of aviation from the cockpit of the ICON A5. With its foldable wings and custom trailer, it's easy to tow the aircraft from school to school throughout the state. Sitting in the cockpit, students get a glimpse into how the airplane flies, how the instruments operate, and encourages them to learn more about different aviation career opportunities (the ICON A5's engine, a Rotax 912iS powerplant, was removed before the sale to use the aircraft as an educational tool and to provide students with the opportunity to sit at the controls). What's more, students are able to get this exposure at no cost.
"The Virginia Department of Aviation was selected as the nation's best aviation education program by the National Association of State Aviation Officials," celebrated John Campbell, Director of Communications and Education with the Virginia Department of Aviation. "Of course, a key component to this award-winning program is our ICON A5 Introduction to Flight program. While we believe we have had a strong aviation education program for many years, the addition of the ICON A5 simply took us to new heights."
Westmoreland County's GEAR UP Director, Patricia Kelly Long, was one of several people who recommended The ICON A5 Introduction to Flight program for the national award. "The thought of bringing an actual airplane to our middle school captured my team's imagination. Our journey to the plane was one of the most rewarding examples of partnership I have encountered in a long time."
The ICON team is honored to play a part in a program teaching today's youth about the future of aviation. The Virginia Department of Aviation is the first in the nation to own an ICON A5. We look forward to sharing the A5 with other educational programs to promote the democratization of personal flight and 3D mobility and to inspire future engineers, pilots, and mechanics to join our mission.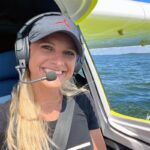 Suzanne is the Marketing Manager, Content + Brand Partnerships for ICON Aircraft. Suzanne holds her commercial single-engine land and seaplane ratings and is currently working on her CFI. In addition to her flying experience, she is a technically trained scuba diver and enjoys exploring and protecting shipwrecks, coral reefs, and marine life.