The Fort Lauderdale International Boat Show, nicknamed 'FLIBS', is the largest in-water boat show in the world. Guests arrived by vessels of all sizes—classic automobiles and even golf carts—to check out the latest and greatest in the yachting and boating industry.
ICON was thrilled to exhibit at SuperYacht Village where spectators, aspiring and current pilots, were all able to view the amphibious aircraft in-person. Wing folds were demonstrated to show how easy the A5 is to store, even on a yacht. While our team was stationing an ICON A5 on static display at the show, another was splashing down and around Miami, offering prospective buyers sales demo flights.
We kicked off the week offering roughly a dozen flights out of the Opa-Locka airport (KOPF). With water landings in Biscayne Bay and countless photo opportunities of the Miami skyline, the demo flights offered a beautiful glimpse at how the ICON A5 was seemingly made for South Florida.
On Friday, show attendees enjoyed a yacht show during the day and a Concours Classic car show at night. The ICON A5 was showcased among a sea of cars as a more modern, 3D mobility vehicle to have in your garage.
We wrapped up our demos with a flight over the boat show, just 500 feet above the Inter coastal waterways of Fort Lauderdale, thanks to the accommodating control tower at KFLL.
ICON's commercial team had a great time meeting so many adventurous boaters, car enthusiasts, pilots and aspiring pilots, as well as connecting with several ICON A5 Owners who happened to be at this great event. Thank you for allowing us to share our passion for the A5 with you, and to show why it is the perfect aircraft for Adventure Flying.
To request a demo flight in the ICON A5 or to learn more about when our team will be in your area, contact our sales team here.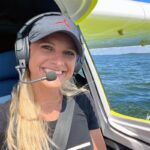 Suzanne is the Marketing Manager, Content + Brand Partnerships for ICON Aircraft. Suzanne holds her commercial single-engine land and seaplane ratings and is currently working on her CFI. In addition to her flying experience, she is a technically trained scuba diver and enjoys exploring and protecting shipwrecks, coral reefs, and marine life.