ICON Aircraft is continuously building a network of experienced CFIs, trained as ICON Authorized Flight Instructors (IAFI), to provide flight training resources for ICON Owners closer to their home and throughout the United States. ICON also has Flight Training Partners — schools that have an A5 in their fleet inventory to use for instruction. Joanna "Jo" McPherson is one of the more recent additions to our team of IAFI. She currently teaches at Atlas Aviation in Tampa and at Jack Brown's Seaplane Base in Winter Haven in both land and seaplane operations. Both of these flight schools are ICON Flight Training Partners.
Jo, where did you first learn to fly?
Not too long ago, my kids joined the Civil Air Patrol in Tampa to experience opportunities in aviation. I got involved in planning and executing the orientation flights for the cadets, and decided that I wanted to be the pilot flying them. I checked out a few places and finally settled on Atlas Aviation at Peter O'Knight Airport and have done all my flight training there.
After my instructor training, I had the opportunity to fly an ICON A5 and a Lake Renegade in different water environments around Central Florida and I was immediately hooked on seaplane flying. I quickly scheduled my SES training at Jack Brown's in the Piper J3 Cub.
What initially drew you to becoming an IAFI?
I first flew the A5 while I was in the midst of CFI training and thought it was the most fun airplane I'd ever been in. A couple of months later, I was instructing next door to the ICON Flight Training Center at Atlas Aviation, when they ramped up on their own land-based ICON training. I was at the right place at the right time to go through the IAFI training with an A5 on the Atlas training fleet.
What observations do you traditionally see for new A5 owners and pilots that you don't see when teaching in other aircraft?
The A5 pilots are owners, not renters, so they approach flight training in a completely different mindset of confidence. It's like they already believe they are pilots. Most other students, I spend a minimum of 40 hours convincing them they are.
In addition to local training, you also fly with owners from Final Assembly at ICON HQ's in Vacaville to their home bases. How much does the customer participate in the ferry flight planning with you?
Every leg of the ferry flight is a training flight. The owner is involved in the initial flight planning by choosing where we could fly using runway lengths, available fuel, and really learning cross country flight planning before we leave Northern California. Flying through different environments, weather is a big lesson. They learn that plans and destinations change based on the weather. Then we fly the plan. They also get a lot of exposure to practical flying, like how to behave like a pilot going into an airport, how to tie down or hangar the aircraft, how to request a crew car, etc.
What do you believe to be the most underrated aspect of the A5?
The single most underrated aspect is the heater. Flying with the windows out, the heater gives the perfect balance of hot air on your feet and a cold breeze on your face.
What is the most ICONIC Destination you've been so far?
My favorite so far is Lake Havasu. The beauty of the red terrain surrounding the blue water is unreal. It was a blast practicing water landings there with the new owner.
My bucket list destination for the ICON A5 is the Dry Tortugas in the Florida Keys. There's no other way to get to the historic island than by boat or seaplane.
What is your advice to people interested in becoming a pilot who may be wary about the time requirements?
The expectation that I hear the most is that they think they get their private training done in 40 hours, or their sport pilot rating in 20 hours. There's not an advantage to getting it done faster. It takes as long as it takes you to be proficient in being a safe pilot. Flight training is a highly personal experience and I want students to embrace their journey and not try to fit a standard mold.
Are you interested in flying the A5? ICON offers experiences from a 1/2 day instructor led training flights to full transition courses. For more information on training with an IAFI, click here.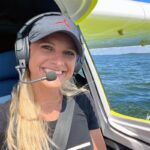 Suzanne is the Marketing Manager, Content + Brand Partnerships for ICON Aircraft. Suzanne holds her commercial single-engine land and seaplane ratings and is currently working on her CFI. In addition to her flying experience, she is a technically trained scuba diver and enjoys exploring and protecting shipwrecks, coral reefs, and marine life.