Experience reveals the quirks and clever shortcuts behind anything with moving parts. With over 3000 hours in the ICON A5 collectively, our Tampa-based IFC Instructors compiled 10 Hacks every ICON pilot should know. We share how knowledge of the plane's unique nuances can enhance your fun, safety, and ease of mind in the A5.
These insider tips include:
Power settings to use for different operations
Best braking techniques for taxiing
Boosting the bass on your music through the Garmin G3X Touch™
How to prioritize safety while still having fun
Strap in for a flight with Flight Training Network Manager, Andy Jackson, to learn our recommendations on operating and securing the ICON A5.
Interested in taking an ICON A5 demo flight? ICON Flight Training is based out of Tampa and offers experience flights every week. Click below to visit our flight training page and to learn more.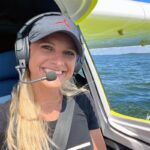 Suzanne is the Marketing Manager, Content + Brand Partnerships for ICON Aircraft. Suzanne holds her commercial single-engine land and seaplane ratings and is currently working on her CFI. In addition to her flying experience, she is a technically trained scuba diver and enjoys exploring and protecting shipwrecks, coral reefs, and marine life.