The A5 arrived in New York fashion on the night of August 11th with the city shining bright on the Hudson River. The ICON team would spend the next seven days hosting current A5 owners, prospective buyers, and locals in the NY Metro area.
We kicked off the weekend with a static event at Claudio's Tavern & Grill in Greenport. Guests arrived by land and sea to see the ICON up-close, imagining it sailing off for the Long Island Sound. We were thrilled to introduce so many people to the ICON A5, showing off the wing fold and the ease of which the ICON A5 can travel by trailer. You can view a time lapse of the event below.
The week continued with demo flights in tranquil Manhasset Bay. Nearly 110 years after the first seaplane landed in Port Washington, the community was excited to see the ICON A5. Filled with moored sailboats and motor boat traffic coming in to enjoy the local businesses, Manhasset Bay is a unique and perfect place for the ICON. The historic Sands Point Seaplane Base still exists with two channels made for landing traffic—a call to the Port Washington Water Taxi lets you dock your plane on in the middle of the bay using their floating platform.
We flew our demo flights out of the welcoming Fathoms Hotel, right on Manhasset Bay. On takeoff from the bay, guests enjoyed views of Gatsby-style mansions, the Long Island Sound, and the Manhattan skyline.
Pictured above: the perfect hangar for your ICON A5 on the East River
The feedback was consistent—NY is the perfect place to own an ICON A5. We are grateful to local businesses and neighbors for their support and hospitality. We look forward to returning to Manhasset Bay next summer and rejuvenating this area's tremendous seaplane history.
If you missed your opportunity to see or fly in the ICON A5 in the NY this summer, please contact us below for updates on our next trip to the Big Apple.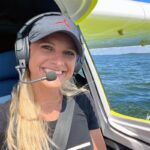 Suzanne is the Marketing Manager, Content + Brand Partnerships for ICON Aircraft. Suzanne holds her commercial single-engine land and seaplane ratings and is currently working on her CFI. In addition to her flying experience, she is a technically trained scuba diver and enjoys exploring and protecting shipwrecks, coral reefs, and marine life.