ICON Enclosed Trailer
Adventure. To Go.
Go Where You Want, When You Want.
Is your idea of adventure taking your A5 on epic road trips? Or do you just want to break free from the bonds of your local airport? The ICON Enclosed Trailer delivers protection from the elements while on the road and is also a secure temporary storage solution when off. This trailer was designed with the same user-centric approach as the A5 itself. The intuitive interface and well-placed entry points provide easy access to load and unload your A5, while the bunk system, aluminum frame, and fiberglass walls offer maximum protection on the road.
Manual ramp/lift actuator and wireless winch control enable effortless use.
Independent bunk system allows the aircraft to be rolled onto the trailer, lifted, and lowered with the gear up.
Aluminum walls make this trailer sturdy but also lightweight.
Ramp enables safe and easy land loading/unloading without aircraft tipping.
Dual-axle with specially tuned suspension to provide a smooth ride.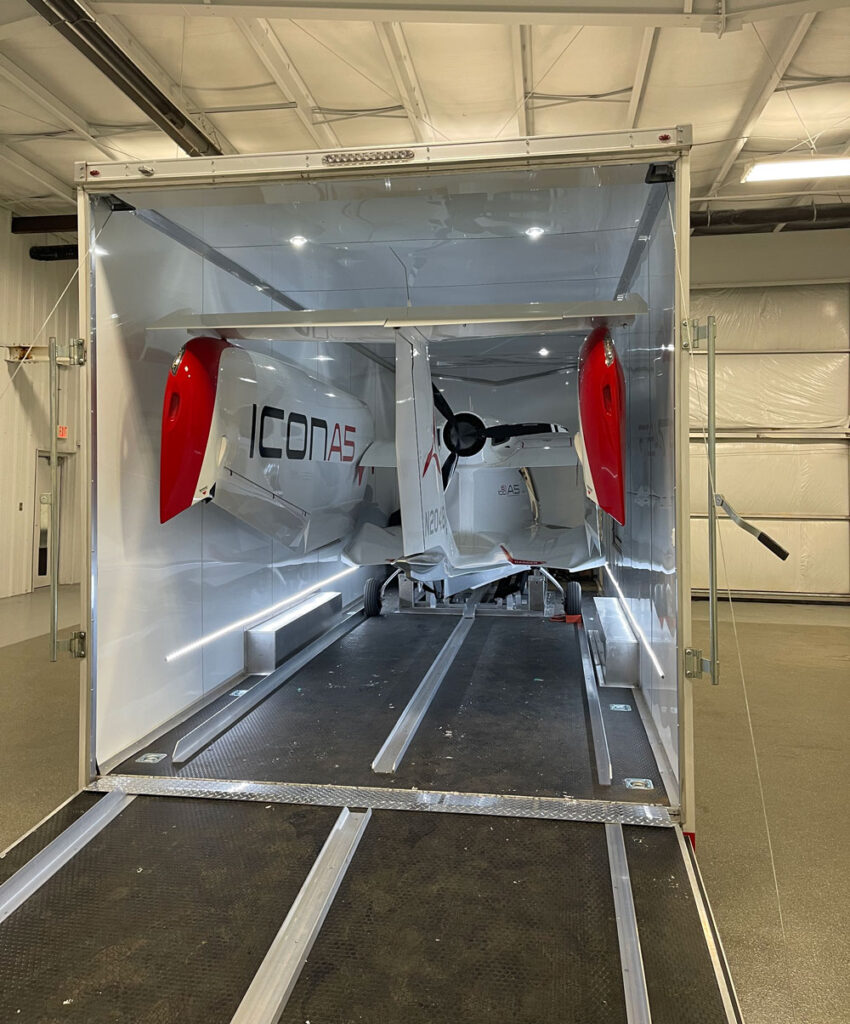 Exterior Graphic Options
Choose the option that fits your style
Towing Information
The ICON Enclosed Trailer has a retractable bunk system that allows the aircraft to be trailered with its gear retracted, ensuring that your aircraft is secure and stable when it is being towed and avoiding uneven loading on the landing gear. The trailer meets all DOT guidelines and can be towed fully loaded with a mid-size SUV or truck with a class 3 or 4 hitch.
Specifications / Pricing
Electrical system with all-LED lighting and on-board trickle charger
Empty weight: 4,580lbs
Retractable aircraft tie-down strap system
Wing-support kit included
Length: 29.5′ Width: 8′ 6″ Height: 10′ 5″
Hitch size: 2-5/16″
Contact us for pricing information.
Request More Information