Last year, ICON debuted the "Electric Green" A5 color scheme, the first appearance option that differed significantly from the earliest A5 model.
This past week, ICON was excited to deliver the latest appearance option for the ICON A5, the "Electric Blue" color scheme. The Electric Blue ICON A5 features updated avionics—the Garmin G3X Touch—in addition to the new paint scheme. Completed at ICON Aircraft's Final Assembly in Vacaville, CA, the Electric Blue ICON A5 was ferried to its new owner in Lago Vista, TX, where it will be enjoyed alongside several ICON A5 Owners that are also in the Austin area.
The owner was able to share this reaction with us: "I spent about 20 minutes today just walking around it in the hangar, it's a work of art and engineering masterpiece. "
To date, ICON has over 150 owners across the United States and is almost exclusively producing A5s with the updated G3X Touch Avionics, with optional autopilot.
For those interested in learning more about how to buy the ICON A5 and appearance options, explore our ICON A5 page here.
If you would like to request a sales demo flight or to speak with a sales representative, please request a demo flight below.
Read the Latest from ICON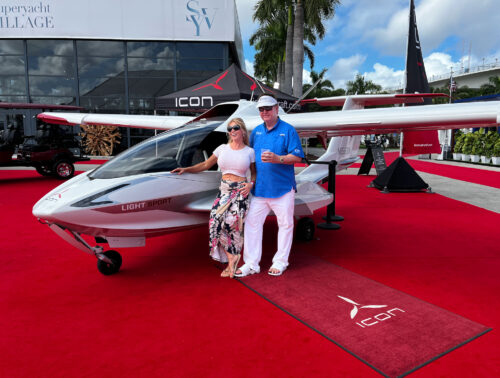 This year, the ICON Team was excited to return to FLIBS 2023. Our sales and flight ops team once again proudly displayed a static ICON A5 at Superyacht Village—front and center at one of the world's largest boat and yacht shows. During the event, the ICON Demo Team was able to give a number of …